Email marketing is still a great way for publishers to drive engagement and conversions with their brands. Yet there's a lot publishers can do to optimize their strategies. Email isn't a build-it-and-forget-it platform. You should be constantly experimenting with ways to improve and manage your lists, value propositions and content and design, to name just a few areas. Here, we offer a ton of solid advice and recommendations from Anna Rawling, VP of digital engagement and retention at The Economist, and Phil Barrett, SVP at Purch, a content and commerce network of sites across consumer tech, lifestyle and entertainment.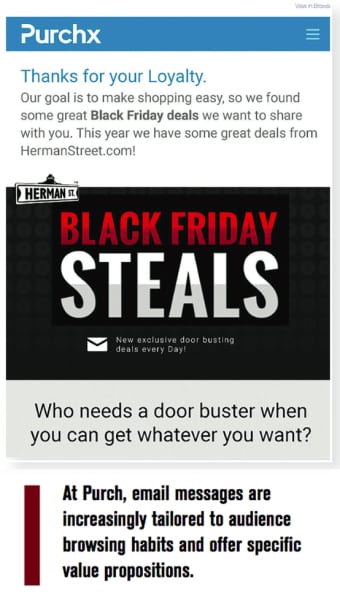 • Mobile
Email marketing has not totally caught on with mobile yet. Barrett cautions that, for the most part, people are still reluctant to make purchases on their phones. Purch gets around this by sending customers an email that aggregates the products they viewed. "Even though the screens are massive now, people are hesitant to buy something on mobile," he says.
"We have a feature in [mobile shopping app] ShopSavvy that we can send an email that has all the things they browsed. That way, they open the email again at home on the desktop where they are more comfortable. We use email as a facilitator between screens."
Conversion rates on mobile are nowhere near desktop, adds Rawling. Engagement rates are consistent with responsive design, but conversion is another story. "Conversion rates on mobile are around 70 percent lower than desktop," she says. "We think of mobile as primarily a consideration channel, from which a number of customers will then go on to purchase via desktop."
• Design
Nevertheless, design should be cross-platform. "The resource effort required to support mobile-specific campaigns doesn't warrant the return," notes Rawling. The design should also avoid overshadowing the content, she says.
Meanwhile, personalized content is delivering impressive numbers for The Economist. "We're using the Sailthru platform to serve readers more of the articles we know they like to read. Although we think there's a role for curated content, the results of newsletter personalization are impressive, delivering a 160 percent increase in web page views while at the same time being infinitely more customer and resource-friendly than numerous newsletters by subject."
• List Growth and Management
Lists are a pain point for publishers. In a recent survey conducted by Folio: and WhatCounts, list growth was cited by respondents as the biggest email marketing challenge.
"Opt-in is a challenge," agrees Rawling, who suggests making sure sign-ups are included in registration and subscription forms and paying close attention to your marketing copy. "Ensure the benefit of signing up is clearly communicated. Pay special attention to your opt-in wording and carefully consider the role of third-party opt-in. Seventy percent of subscribers tell us they are happy to receive emails from us, but that number drops to 30 percent or less if we introduce third-party opt-in."
In the meantime, Barrett cautions against buying lists. "Lists are a major focus for us this year. The last thing we want to do is go out and buy lists. For us, it's about repositioning what it means to subscribe. Not just, 'click here.'"
Instead, Barrett says Purch is ramping up the value proposition for "joining" an email subscription. "We're focused on joining a club. Not only do you get the newsletter, but you get other offers."
• ROI
That membership approach puts a new perspective on measuring campaign ROI. "We track all the usual metrics, but that becomes less important," says Barrett. "What becomes more important is lifetime value. We're not acquiring an email address, we're acquiring a member. The best loyalty programs do two things really well—reward users and recognize the best users. If I can give someone access to better deals of course they'll want to sign up and advocate for us and tell their friends. Then we end up growing our list."