Membership associations often comprise a diverse array of departments, each with their own objectives, budgets, and challenges, and media groups often shoulder the burden of being viewed as cost-centers, ancillary to the organization's main revenue sources, yet tasked with wide-ranging responsibilities. But in a time in which breaking down the barriers that once existed between departments seems a universal imperative, informal collaboration may not be enough to overcome a culture of silos and isolation.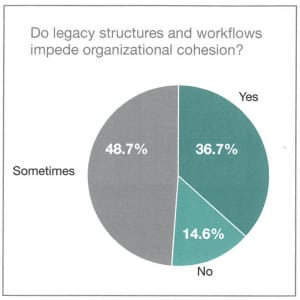 "The challenge within associations is that the association is not one business," says one media director at a medical professional association. "Magazine publishing, fundraising, trade show management, membership development and retention, product development, public sector advocacy — the only thing these activities have in common is that they exist in service to the overall mission of the association."
To learn more their biggest obstacles when it comes to cross-department collaboration, Folio: and AdvantageCS teamed up for a survey of editors, salespeople, and marketing and production staffers at association magazines large and small.
Perhaps most striking about the initial results is that only a slim minority (14.6 percent) attest that legacy structures and workflows do not impede organizational cohesion, with 36.7 percent stating that they do, and the remaining 48.7 percent acknowledging that they at least sometimes do.
"I think it's getting better, but for a very long time, we often went along without knowing what other teams/departments were doing," writes one respondent, a managing editor. "For that matter, I think some departments (though not mine) weren't good at keeping other members of the same department informed as to what was going on."
Another respondent, a communications director at a 100,000-member organization, is more frank.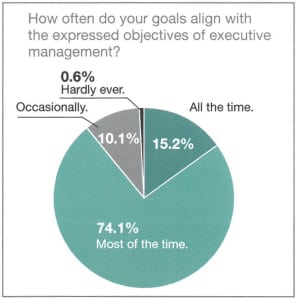 "Lack of resources to develop effective programs, competition from our own members—who develop their own products and services—competition from commercial entities, too many legacy programs we don't eliminate."
While the vast majority of respondents indicate that their own department's goals generally align with those of the organization's executive management, a disconnect emerges when asking respondents to characterize their organization, with more than half (51.9 percent) agreeing with a statement that begins, "We are frequently uncoordinated, with intra – and inter-departmental objectives diverging too often, lacking consistency and creating missing opportunities for growth."
"It's a siloed organization, and everyone has their own data," writes a publications manager. "Membership has member data, Publications has author, editor, and reviewer data, Meetings has attendee, exhibitor, and presenter data, and so forth. Actually gathering and merging the data isn't that challenging. The hard part is making sense of it and understanding the customer's expectations. If you attend a meeting, is it okay for you to be contacted about membership opportunities? Everyone has different perspectives on that and what should be the primary goals."
The response rates to a few other questions shed some further light on just where and why that disconnect arises. For example, while just 19 percent of respondents acknowledge that critical economic drivers (e.g., membership dues, event registrations, ad sales) are integrated within their organizations and not segregated, a majority of respondents (59.5 percent) report that their organization lacks any workflow software designed to foster collaboration across departments, and only 56.3 percent report that their organization shares data across departments via a unified database.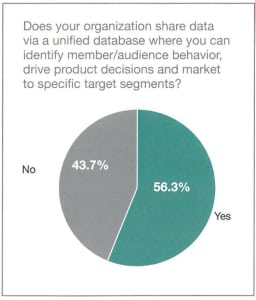 "Sometimes, there is a wall three-feet-thick between the membership side and the publishing/commercial side of an organization," says Dan Heffernan, VP and chief product officer for AdvantageCS. "They act as two different entities, and there is no communication between them. This results in poor member service and ineffective marketing."
Asked what their recommendations would be to improve organizational coordination, most respondents advocate informal collaboration between departments through committees, followed closely by implementing better workgroup collaboration software.
"Informal collaboration has worked best for us," writes another respondent. "Breaking down silos and removing barriers to collaboration is the key underlying piece that is needed."
"We continue to strive toward better communications and systems that will help us act more effectively and cohesively," concludes another respondent. "[My team] works across many departments and balancing and prioritizing projects among them is the biggest challenge."
In the end, most respondents agree that while there is no replacement for open, effective, and respectful communication, but in an age of departmental integration, tighter budgets, and expanding responsibilities, organizations might consider investing in solutions to unify their business drivers and promote internal cohesion.
"Breaking down this wall, sharing data, and communicating about what the data means can revolutionize a member's experience with the organization," adds Heffernan.
Click through the slideshow for more of the survey's findings.