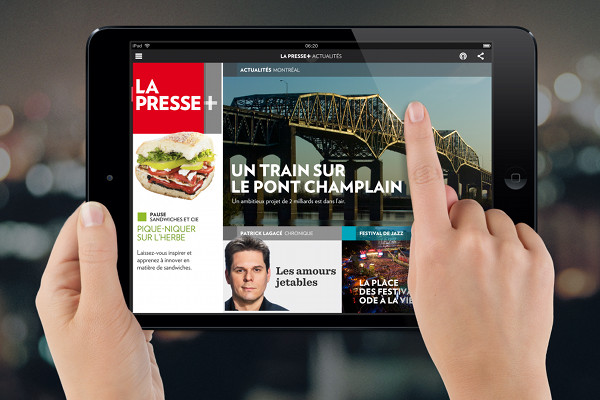 The free digital edition of Montreal-based daily newspaper La Presse has seen tremendous increases in the last nine months. Since its launch in April last year, the French-language newspaper's tablet counterpart, La Presse+, has been installed on more than 400,000 iPads. 
Downloads to the iPad have totaled 60,000 in the last two months alone. At nine months, La Presse+ has already reached 65 percent of La Presse's print circulation. There are now between 120,000 and 125,000 unique devices opening to La Presse each day.
La Presse+ offers enriched versions of the Canadian news outlet's editorial content through a multimedia experience. The edition includes custom content and integrates facets of print, web, mobile and video. 
"It's allowed us to take the best of every media and package it together to tell stories in a completely different way, and in the way that's best to tell a specific story," executive VP Pierre-Elliot Levasseur tells Folio:. "I think we've adapted the story-telling to the way that people now want to be informed–the way they want to get news. It's a different experience." 
According to company metrics, users of La Presse+ spend an average of 36 minutes viewing the app on weekdays, 40 minutes on Sundays, and 65 minutes on Saturdays. 
The tablet edition has also created engagement in terms of advertising possibilities. With creative platforms for advertisers to draw engagement, La Presse+ has essentially turned ads into part of the experience. 
"Almost 70 percent of people surveyed have told us that they appreciate the ads," says Levasseur. "If we weren't getting 40 minutes of engagement, if we weren't getting the fact that they like the ads, then we wouldn't be a success."
A version of La Presse+ for Android devices is set for spring.