L2 Digital Study Highlights Forward-Thinking Replicas

Apps from Glamour, The Economist and Wired feature unique functionality.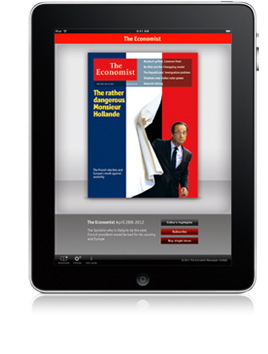 This week, market research firm L2 released its second annual Digital IQ Index for the magazine market in which it measures digital strategy execution among 80 consumer magazine brands. The study ranks brands across five factors—website, digital marketing, social media, mobile platforms and, new this year, tablets. The study also broke out mini-case studies and several highlighted digital magazine features and tactics that helped the brands stand out in the study's results.
Glamour launched a Friends & Fans mobile app that enables users to scan QR codes embedded in print ads in the magazine which generates likes and followers for the advertisers. In exchange for the like or follow, users were given discounts on the advertised products. According to the report, an impressive 25 percent of Glamour's two million readers used the app. Advertisers collected 50,000 Facebook likes via the campaign, which translated to a four percent response rate to the QR codes. The app also provided Glamour content and social integration with Pinterest. "This unique triangulation of print, mobile, social and e-commerce fosters interaction between advertisers and consumers that endures beyond the printed page," says the report.
The Economist was singled out for a basic, but effective use of audio in its digital editions. According to L2's study, 21 percent of the 80 brands with digital editions feature audio functionality, which seems low. The Economist features a complete audio version of each article and they can be downloaded and arranged in customizable playlists. The audio also plays in the background between apps. The audio functionality works on both iPads and iPhones.
The study was also impressed with Wired's reissue of its debut January 1993 issue as a free download for the iPad. The reissue leveraged Wired's usual wide range of digital edition features in the replica, including anecdotes from the original editorial team. "The project provided a nostalgic outlet for loyalists, an insightful introduction to the brand for new readers, and a platform for highlighting how the latest tools could augment traditional content," says the report.
For the full report from L2, click here.
Meet the Author
---