Kristina Ackermann

Managing Editor, Editor & Publisher, 27-years-old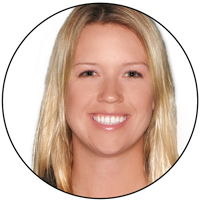 Taking over as managing editor for any publication is a big challenge. Taking over a 128-year-old magazine that had been through a closure, a sale, a relaunch and then a complete overhaul of staff and digital strategy is an even bigger task.
That's what Kristina Ackermann faced with Editor & Publisher, the storied trade magazine that serves the newspaper industry. Nielsen closed E&P in December 2009, only to be approached by Irvine, California-based Duncan McIntosh & Co., publisher of Boating World and Sea Magazine, about buying E&P a month later.
However, what looked liked a happy ending was not meant to be as Duncan McIntosh ended up firing the existing edit staff over the editorial direction of E&P.  Ackermann, who had worked on the consumer side of Duncan McIntosh, now found herself on the b-to-b side, recasting the magazine and its approach to digital content.
"Just like every publication, we're trying to do the best with the very limited resources we have," says Ackermann. "We recognize digital as an important component but the fact of the matter is it's the print publication that still pays the bills and gets the lion's share of our attention as far as exclusive content and creating our own voice. We chose to go with an aggregation strategy online at least for the time being rather than running ourselves in circles trying to compete there."
That includes posting 15 curated stories per day, as well as at least one original story. Aggregation is done manually with Ackermann serving as gatekeeper, a role she also takes with the 12,000-circ. monthly magazine. "I do a little of everything with the magazine—assigning stories to freelancers, making sure stories coming in are what's expected, making sure everyone gets paid on time, making sure the publication gets out on time with a reasonable budget and proofing layouts," she says.
From February 2010 to September 2011, print revenue is up 20 percent and digital revenue is up 200 percent, with a staff of five across edit, design and sales. "The old website was dinosaur, it was almost unusable," says Ackermann. "The fact that we have increased traffic and subs has been a big deal."
Meet the Author
---