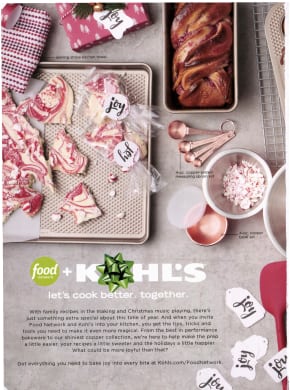 Kohl's Kitchen Products scored two of the top five most remembered print ads placed in culinary magazines in December, based on data from GfK MRI's Starch Advertising Research.
In the epicurean category, the highest noted ad score—that is, the percentage of readers of an issue who recalled noticing the advertisement—went to a two-page ad for the book "At the Southern Table with Paula Deen," which appeared in the December issue of Cooking with Paula Deen. It scored a 90 percent.
Two separate gatefold ads for Kohl's Kitchen Products (Food Network Magazine) checked in at 89 and 82 percent, and KitchenAid Multi Major Appliances (Food & Wine) had a score of 85.
In fourth place was a one-page, largely black-and-white ad featuring actor Christoph Waltz for the pricey (nearly $400) Dom Pérignon P2 Champagne. Appearing in the December issue of Wine Spectator, the ad was Noted by 84 percent of survey respondents.
Along with data on the top ads that consumers noted, GfK MRI also provided the audience for these magazine issues from its Issue-Specific study. These metrics show how each issue performs compared to the magazine's average issue audience estimates from GfK MRI's Survey of the American Consumer™ over the two most recent Waves of Survey data.
Top 5 Noted Ads
1. Paula Deen Ventures at the Southern Table
Magazine: Cooking With Paula Deen
Publisher: Hoffman Media
Noted: 90%
Issue-Specific Audience: 3,295,000
---
2. Kohl's Kitchen Products
Magazine: Food Network Magazine
Publisher: Hearst
Noted: 89%
Issue-Specific Audience: 13,147,000

---
3. KitchenAid Major Appliances
Magazine: Food & Wine
Publisher: Meredith Corp.
Noted: 85%
Issue Specific Audience: 6,304,000
---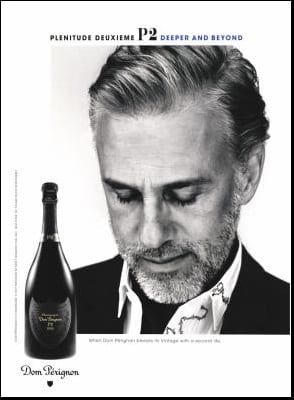 4. Dom Pérignon P2 Champagne
Magazine: Wine Spectator
Publisher: M. Shanken Communications
Noted: 84%
Issue Specific Audience: 3,975,000
---
5. Kohl's Kitchen Products
Magazine: Food Network Magazine
Publisher: Hearst
Noted: 82%
Issue Specific Audience: 13,147,000