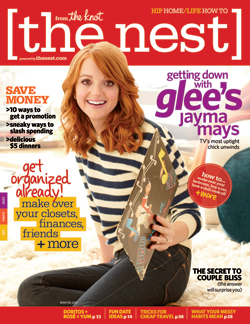 The Knot, whose brands include TheNest.com and TheBump.com, is converting the print version of The Nest to digital.
The Nest magazine, which began as a website aimed at newly married couples and cohabitation, released its last print issue in late January. TheNest.com has a community of about one million members.
The Nest magazine was originally under controlled circulation, but due to audience interest, it was announced in March 2010 that the quarterly publication would hit newsstands. The Nest was available for purchase on July 19, 2010 mainly though Barnes & Noble and Borders, as well as Target and Walmart.
Denise Favorule, The Knot's national enterprise group's executive vice president, cited lack of advertising support and consumers being unable to purchase the publications as reasons to switch strategies. With no subscription model in place for any of the print publications, there were difficulties in funding the amount of issues to satisfy the reader demand through advertising (due to high volume of requests and shipping prices).
Favorule says, "It was either going to be a slow build in terms of charging more for the advertising, or we [could make] a decision to use The Nest as a custom publishing opportunity for our advertisers." She says that they are in talks with several advertisers; one is looking at a 48 page issue that will be mailed to TheNest.com members.
The print will be turned into a digital quarterly, and there will also be a Nest-branded section in The Knot's quarterly offering. The Nest digital quarterly will be emailed to 500,000 TheNest.com members, and members of TheKnot.com and TheBump.com will receive emailed links as well.
The Knot launched a Groupon-like initiative called Wedding Channel Deals in partnership with sister site, Wedding Channels last year. Favorule shared the Deals group began last year, but ramped up this January. Deals that did especially well in the first quarter included beauty and spa offerings. The Wedding Shop on TheKnot.com offers users wedding "tchotchkes", such as matchbooks and almonds.
Launched in August 2006, The Nest reached a controlled list of 400,000 with its debut issue. TheNest.com launched in January 2005; The Knot's print magazine frequency was upped in 2010 from semi-annually to quarterly. The print publication is sold for $9.99 an issue and The Knot magazine app is available through Apple for $4.99. There's also free The Knot and wedding dress apps for the iPhone.