Kiplinger Looks to Digital, Social Media To Court Younger Audience

Will develop multiple revenue streams around licensing, premium content.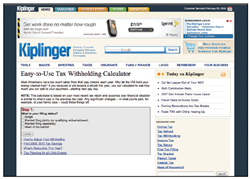 "We hear it all the time: 'Oh yeah, my dad gets that,'" says Kiplinger director of digital business development Wallace Ryland, referring to the reaction of younger demographics to the Kiplinger brand.
In 2011, Kiplinger is embarking on a major growth initiative to expand its audience and develop new revenue streams. "This as an opportunity to stretch our demographic," says Ryland. "A couple years ago, our average reader was 52 years old and 64 percent were male. There wasn't much opportunity for non-endemic advertisers. Now we're seeing a 54 percent/46 percent male-female split. We're moving in that direction and mobile is one of the ways to do it."
Kiplinger is following the example of brands like The Atlantic, which have succeeded with multi-pronged digital and event strategies that ultimately benefited the print product as well. "The opportunity is to take what we consider gold-plated content and come up with interesting ways to deliver it," says Ryland. "We've taken a lot of stuff in the magazine and packaged it in a way people want to see on the Web. Some of it is just changing the process."
In 2010, digital advertising revenue grew 50 percent for Kiplinger.com. While Ryland won't share specific numbers, he did say digital revenue was close to half of magazine advertising revenue in 2010 and he expects it to be closer to 60 percent of print advertising in 2011 (Kiplinger's Personal Finance saw a 9.3 percent jump in ad pages and 3.7 percent growth to $22.1 million in ad revenue last year according to Publishers Information Bureau, although it should be noted that PIB numbers don't account for rate card discounts).
Mobile, Social Media Take the Lead
Kiplinger is launching a mobile product in the second quarter and eventually wants to deliver to nearly every wireless device, including the iPad. "With digital we can try things and move on if they don't work out," ways Ryland. "I've launched magazines in the past and been out a ton of money. With this, if we don't like it, we can pivot. The reason we've been around nine decades is not that we're bleeding edge guys, but we want to try things in ways we think will have the most impact."
Social media will be a big part of Kiplinger's audience development and the company promoted research coordinator Amy Pollak to serve as social media/audience development specialist. "Amy can bridge the gap from editorial to business development and audience development," says Ryland.
While Kiplinger will be developing rich media applications for its Facebook and Twitter communities, Pollak's focus will be talking to the audience and also establishing other editors as accessible brands. "We need to be talking to people and identifying those 'brand investors,'" says Ryland. "How do I save money, how I do taxes, that's great conversation. We also want to create a following for individual writers. In our Phase Two and Phase Three stages, we want to get in front of schools. That's an offline approach. It's about making personal finance and forecasting cool for someone who's not 54."
Kiplinger is looking to multiple revenue streams, from sponsorships to premium content and licensing and e-commerce. The company has launched initiatives such as the Kiplinger Advisory Panel, in which select U.S. consumers are asked to participate in a series of surveys, as well as "Kiplinger's Little Luxuries," which leverages a partnership with Dealon to offer deals on restaurants and spas. "There will be a lot of opportunity to spread our revenue resources around," says Ryland.
Meet the Author
---