Kindle Fire to Launch with 400 Magazines and Newspapers

Most major publishers represented in newsstand.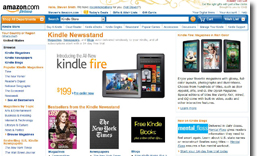 This article first appears at FOLIO: sister site minonline.
In the escalating media wars between tablets releasing this week from Amazon and Barnes & Noble, the former announced that its Kindle Fire will include a "Newsstand" selling subscriptions and issues of 400 digital magazines and newspapers. Most of the major publishers on the magazine side will be represented in the Newsstand: Conde Nast, Hearst., National Geographic, Meredith, Wenner, Reader's Digest, etc. Early customers will get a special promotion from Conde Nast, a three month free trial subscription to its 17 titles.
The Kindle Fire includes a dual-core processor, 169 DPI graphics and a 7-inch screen that Amazon says is well-tuned for browsing full-color renderings of magazine pages. The processor is also capable of handling more complex interactive touches like embedded video and some of the tap and swipe mechanics made famous in digital magazines enhanced for the Apple iPad.
For the rest of the article, click here.
Meet the Author
---