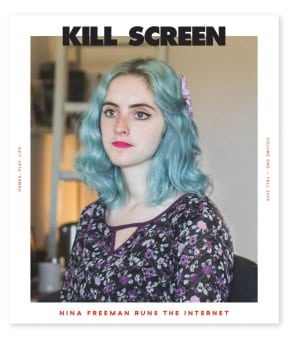 A January study conducted by the Pew Research Center found that, since Kickstarter launched in 2009, 658 journalism projects were successfully financed on the crowdfunding platform—raising a total of $6.3 million.
Accounting for over $1 million of that sum, one-in-five of those journalism projects were magazines, such as artistic video game quarterly Kill Screen, which successfully completed a second round of funding in December.
In many ways, this is simultaneously a new phenomenon and a continuation of a trend as old as the industry. Apart from personal funds and bank loans, "friends, family, and fools" have long been the principal source of early-stage financing for startups. The nuance is that, like the web itself, crowdfunding sites like Kickstarter provide would-be publishers the ability to turn anyone with an internet connection and a bank account into a friend (or a fool).
Folio: connected with Kickstarter's publishing outreach lead, Maris Kreizman, to learn more about the platform and whether crowdfunding exists as a viable means of lowering entry barriers and getting new titles off the ground—both in print and digital.
Folio: What kind of factors in the industry are leading people to crowdfunding for journalism projects?
Maris Kreizman: I think it's a couple of things. There are some slowdowns in federal grant money, and I also think people are concerned with the lack of diversity in their media, and Kickstarter is a place where anyone, if they work hard and do a great project, can find funding. I think the lack of a gatekeeper is really empowering.
Folio: Why is Kickstarter, uniquely-suited for people looking to start this kind of project?
Kreizman: Just for background, journalism wasn't officially a Kickstarter category until June of 2014. We broke it out and separated it from the overall publishing category. We've seen such a wonderful diversity in the kinds of projects considered journalism. We've seen magazines for sure. That's a huge part of it. But we also have websites, podcasts, books, audio documentaries. I think one of the great freedoms on Kickstarter is that journalism has a lot of forms that it can come in.
The other part about Kickstarter that is helpful is that creators can talk directly to the people who will be their fans and have an open line of communication with those people, which is so important.
Folio: Is it common for backers to take an active role in the actual production of whatever project comes out of the campaign?
Kreizman: Yes. Most Kickstarter campaigns are to make "the thing," whatever that thing is. Part of the Kickstarter experience really is following the progress of the creator and hearing about the ins and outs and the challenges of doing something creative, and then just being on the team when it actually comes to pass.
Folio: That ability to be involved from the very beginning and follow the progress, does that just naturally breed a lot more audience loyalty?
Kreizman: I think so. One of the things I tell journalism creators is that aside from the making of "the thing," the kinds of rewards that people find exciting are often experiential ones. It can be a Skype with a writer, or a coffee with an editor, that kind of thing. That creates just such a personal relationship, even more than a tote bag does.
Folio: Is that something that's a benefit to the people creating the projects, too? That direct line of communication.
Kreizman: Absolutely. Kickstarter has a survey tool that any creator can use at the end of their campaign. Most of the time, creators are asking for things like email or mailing addresses, but sometimes it's, "How did you hear about us?" "What would you like to see?"
Folio: Is that ever a challenge, offering that experiential award? Does it limit the number of backers you can have?
Kreizman: You're able to limit the experiential awards by whatever you think your bandwidth is. But being a part of the email newsletter is scalable. So anyone who has backed the project can at least get the personal updates that way.
Folio: What's the success rate like for journalism projects?
Kreizman: I would have to pull the particular numbers, but what I can say is, the number isn't huge. There are many projects that don't get any funding at all, and usually they are kind of like the "slush pile," in book publishing. People throwing the spaghetti up against the wall and seeing what will stick.
Overall, though, there's a rule that any project that gets 20% of its funding is 79% likely to get the whole thing funded. It's a critical mass kind of thing. Kickstarter is a great place to be discovered, but it certainly helps to helps to have your own audience to bring in with you, your core group.
Folio: Are you seeing that it's a lot of projects who just need a push to get off the ground, or projects whose entire business model is going to be centered around crowdfunding?
Kreizman: I think we've seen both. We've seen a lot of wonderful magazines launch on Kickstarter. We've also seen a lot come back to fund their second issue.
Folio: Would there be any alternative for these types of projects, if it weren't for Kickstarter?
Kreizman: I don't imagine so. One of the trends I've been seeing a lot is that many of these publications are able to pay their writers because of Kickstarter campaigns, which is something I feel really passionate about.