Kevin Shields

Director of Consumer Circulation, Grand View Media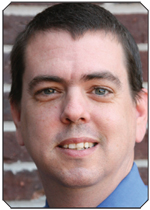 Through a hands-on, targeted approach, Shields has exceeded industry-standard return rates for direct mail and has increased subscription sales within a niche that has otherwise struggled through a tough economic climate.
Twice within his five-year tenure at Grand View Media, Kevin Shields has been honored for "doing the most with the least resources." Hailing from the newspaper world, Shields joined the company and inherited all circulation responsibilities for five magazine titles and two annual books in the hunting and fishing industry, with a mix of paid and controlled models. His goal from the start was to reach 100 percent paid. But perhaps his greatest feats have been in the area of direct mail: His campaigns average a 4-5 percent return, at times reaching up to 10 percent, which is well above the industry standard.
"We're using the old-school things, like direct mail, that people say are dead, and we're just killing it," says Shields. Much of this success, he adds, is due to a high level of focus: "We don't care about the next 100 sales, we care about the next one. Sometimes people lose sight of the fact that every dollar we bring in is a dollar we did not have."
This focus is centered on the quality of the list—"Who you send it to is far more important than the creativity of the design," he says, adding that direct mail unduly gets a bad reputation for effectiveness because "people who are designing direct mail pieces want to win design awards instead of getting an extra percent of return."
Shields's work has grown agency sales by more than 400 percent, with subscription card sales rising more than 100 percent. Newsstand sales have maintained levels through the economic downturn through a strategy that drills down to the individual store level to uncover potential sales opportunities.
Shields values a hands-on approach: "When you have your hands on every single detail, you're going to be more successful because any small problem you see you can nip in the bud before it becomes a big problem."
VITAL STATS: Shields's direct mail campaigns average a 4-5 percent return rate, reaching up to 10 percent at times. He has increased agency and subscription card sales by more than 400 and 100 percent respectively.
Meet the Author
---