Kesal Patel

Associate Director of Technology for Marketing Solutions, Condé Nast | Age: 26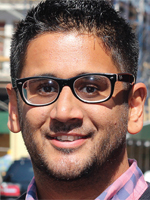 • Created the InCloud for Style.com, a visual fashion ranking that captures and analyzes 10 million rows of data from multiple sources daily.
• Leads the development of advertising and editorial campaigns for brands such as WIRED, Style.com and GQ.
• Plays a direct role in developing industry hackathons and first-to-market interactive content.
Meet the Author
---