Kent Brownridge

general manager | OK!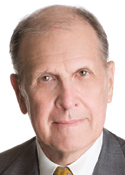 In September, just about the time the seriousness of the U.S. recession was sinking in on Wall Street, Kent Brownridge— who less than two weeks before said that he was stepping down as CEO of Alpha Media to spend more time with his family—announced he had taken a job as the general manager of OK!.
Why Brownridge, a 68-year-old former Wenner Media executive, would take a celebrity magazine job in the teeth of a recession after edging toward retirement was a bit puzzling. But Brownridge sees a big upside in the 900,000-circulation OK!, which increased ad pages by 23 percent last year, according to the Publishers Information Bureau.
"We're looking to grow in advertising categories that represent staple products for people during a recession," says Brownridge. "The things that are mass-sold and mass-produced—such as top-end luxury items—are not useful in this economy."
These non-luxury categories, Brownridge says, include mass-market beauty, pharmaceutical, personal grooming, and entertainment (read: television).
For this, Brownridge is looking for "rather ambitious growth" in 2009. "You might think I'm nuts for saying that, but we're coming off a relatively new magazine."
How he plans to accomplish this is through something Brownridge feels has gotten lost in a multi-platform world: straightforward selling. "This is not some avant-garde idea," Brownridge says. "This is power-selling. Our theory is not to spend a lot of time dickering on rates. We offer our best rate from the get-go. Not this back and forth. It's a rather annoying and irritating process."
Instead, Brownridge hopes an increased volume of sales calls—15 face-to-face calls per 12 salespersons per week—and a laser focus on key categories will make up for any business lost by the downturn. He has also dropped production charges for advertisers, with the idea that less "made-up premiums," the easier it'll be to increase pages.
And don't expect any new product launches—especially Web-based quick-fixes— from OK!. "Anyone who is talking about Web launches has probably given up the ghost, and has a bit of a pipe dream to save their business."
Where They Will Grow: In non-luxury advertising categories, like mass market beauty, pharmaceutical, personal grooming and television.
Where They Will Save: No new product launches in 2009.
 
Quote: "This is not some avant-garde idea—this is power-selling."
MAIN PAGE
Todd Matherne CEO | Renaissance Publishing
Toyin Awesu publisher and editor-in-chief | AvenueReport.com
Cameron Brown president | King Fish Media
Deborah Esayian co-president | Emmis Interactive
Efrem "Skip" Zimbalist CEO | Active Interest Media
Justin Smith president | The Atlantic
Steven Kotok general manager | The Week
Len Burnett co-founder, co-CEO | Uptown
Risa Crandall VP | Scholastic Parents Media
Janet Libert editor and publisher | Executive Travel SkyGuide
Mike Domke founder and president | Milo Media
Jim Prevor CEO | Phoenix Media Network
Samir Arora CEO | Glam Media
John Sateja EVP | Consumer's Union
Jim Vick staff director/publisher | IEEE Spectrum
Pete May president | Greener World Media
Barb Newton president | Sunset Publishing
Paul Mackler | CEO | HMP Communications Holdings
Harry Sachinis | president | McGraw-Hill Business Information
Meet the Author
---