Kathleen McLaughlin

community manager/SEO editor, WATT Publishing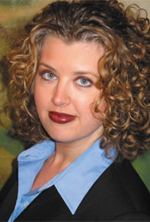 In addition to working on three print magazines, McLaughlin drives the day-to-day functions of WATT's social media strategy.
"I definitely did not go to school for this." That's what Kathleen McLaughlin says about her role at WATT Publishing, where in addition to being managing editor of one monthly and two bi-monthly print magazines, she also serves as community manager and SEO editor.
But McLaughlin represents a new breed of editor—one that isn't focused exclusively on print or online or even generating content as part of her core duties (although she does plenty of that).
As SEO editor, McLaughlin makes sure the audience can find WATT content. "We're pushing content out on several fronts," says McLaughlin. "I've set up accounts for Twitter, YouTube and Facebook, I always include a link back to our communities."
As community manager, McLaughlin oversees three online communities built on the Ning social media platform for WATT's three primary markets: animal agribusiness (AnimalAgnet.com, 2,000 members), woodworking (Sawdust Soup, 1,600 members) and pet food (Petfood-Connection.com, 600 members). Responsibilities include starting discussions and vetting posts.
"We're casting out a huge net," says McLaughlin. "With magazines, our reach is limited. With Twitter, the net is much larger. I push out information daily for poultry, pet food, woodworking, and that is a way to bring people in. I know most people aren't going to our Web sites multiple times per day. But there are people who will check Twitter or Facebook constantly."
Both McLaughlin and vice president of content Bruce Plantz (who launched WATT's three social media sites) are considering where WATT needs to go with the next round of community publishing. "That's the million dollar question," says McLaughlin. "Community is the future, another facet of the print magazine. Do we need to upgrade our platform? Do we need to start over again? I'm pleased our communities continue to grow and we're trying to think what the next generation of community will be to serve our readers even more."
VITAL STATS: WATT has 4,200 members across its three online communities.
BACK TO THE 2010 FOLIO: 40 MAIN PAGE 
Meet the Author
---