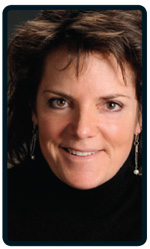 Byrne overhauled her group by rebuilding the team and launching a series of new print and digital products, finding early success through a well-defined app strategy.
The year 2010 was a busy one for Kate Byrne, vice president of enthusiast publisher Future US's technology group, which includes Mac Life, Maximum PC and Windows: The Official Magazine. Following a complete rebuild of the sales team and several new editorial appointments, Byrne set about an aggressive app creation campaign—in addition to launching Maximum Tech.
The new title, which targets the high-end consumer electronics market and its early adopters, embodies Future's emphasis on newsstand and subscription revenue model. While Maximum Tech is newsstand-only and quarterly so far, it's achieved a 33 percent sell-through, or about 120,000 copies, in the middle of a decidedly tough retail market. Byrne expects to take the title bi-monthly in 2012 and monthly by 2013.
Next, Byrne's team began rolling out apps, starting with the Mac Life brand. Byrne tapped her audience for their suggestions on what they wanted out of a Mac Life app—social media capabilities ranked high. "The key was social media, which no one was doing. We couldn't understand how the publishing community missed that," she says.
Mac Life's first app was free and was leveraged as a marketing vehicle for the brand. The app shot to the top of the free app store, staying at number one for a week. Version two launched at $1.99, took number one in the news category and received 26,000 downloads. To date, the app represents 20 percent of the print circulation. A third version is about to launch at 99 cents and will morph into a reviews guide, taking a more vertical, utilitarian path.
A straight replica of the magazine was never an intended strategy.  "Apps of magazines are a companion piece," says Byrne. "Different apps are something new and a better potential revenue stream. I wanted to create a new stable of products."
Overall, Byrne's efforts have paid off. In 2010, the overall revenue goal for her group was smashed by 127 percent, EBITDA was 8 percent over goal and the group's profit margin grew by 25 percent.

VITAL STATS: In 2010, Byrne blew past her group's fiscal year revenue goals by 127 percent and EBIDTA by 8 percent. Profit margin jumped 25 percent.