Karen Schaffner

Publisher, Retail Environments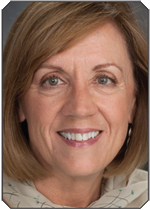 In just three months this publisher increased circ threefold.
In a world of shrinking ratebases and shuttering magazines, Schaffner is doing just the opposite: She was able to triple the circulation of her association's magazine, Retail Environments, in just three months.
In August, Schaffner set that goal for the Association for Retail Environments' magazine by November for the title's scheduled relaunch.
"Prior to then, the print edition of the magazine went to members and members prospects only, with an editorial focus on their information needs," she says. "Today, the magazine is delivered to retailers—our members' clients—and the content is now designed to promote better/stronger relationships between our members and retailers. With only three issues delivered thus far, downloads of our mobile app and page views of our Web-based digital edition have increased significantly, as have advertising sales."
With assistance from Hallmark Data Systems, Retail Environments, Schaffner says, was able to streamline the circulation process and get the help it needed to properly execute its goal of increasing its reach from 5,000 to 15,000 by the November/December issue. To do so, the group pulled together the top 100 retail lists from various groups, including the National Retail Federation and Fast Company, among others. There was an emphasis on a retailer's title when wading through this data; to ensure the most influential decision makers were included.
Return rates, Schaffner says, are very low because Retail Environments was able to carefully examine the database to merge and eliminate various list sources. Since the magazine has a controlled circulation, the publisher is not looking to grow the magazine's reach, but rather to become an audited publication. Within  the next year or so, Retail Environments hopes to apply for a BPA Worldwide audit.
VITAL STATS: There have been over 4,000 downloads of Retail Environments' branded mobile application edition since its launch. The online digital edition has gotten over 87,000 page views since its launch and year-to-date advertising pages are up 50 percent over the prior year.
Meet the Author
---