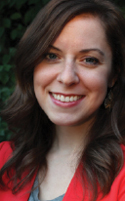 Group Editor
BNP Media
Age: 29
Takeaway: Scally has led four BNP brands into the digital age with video and social initiatives.

Karen Scally became an editor for BNP's construction companion SitePrep just two years ago, but has already been placed at the head of four brands. As group editor, Scally oversees editorial content at GeoDataPoint, National Driller and Point of Beginning, in addition to SitePrep.
After serving as a copyeditor for The Detroit News and DetroitNews.com, Scally brought several of the principles used at a typical consumer daily over to the b-to-b publishing world. At that point, she says, SitePrep was just a young magazine that "didn't have any inroads with digital." Video, writing style, headlines, SEO, frequency of content and social media were all points of emphasis.
"We were able to see growth in both website traffic and in digital revenues," Scally says, pointing to a 900 percent increase in digital revenue from August 2010 to August 2012. "Now I'm overseeing the editorial staff on those four brands and working with them to help develop content strategies similar to what I did with SitePrep."
One of the most influential changes Scally made was the "SitePrep Top 5" video series which draws about 200 views per month and won an APEX Award in 2012.
The monthly feature draws data from the site's "New Products and Equipment" page to determine exactly which tools are likely to draw the most attention. The focus on objective information over subjective editorial commentary helps drive interest, Scally says, but also serves to maintain the "fine line b-to-b walks in working with advertisers."
The video itself is a two or three minute voice-over compilation of that month's favorite tools, buffered by brief intro and outro segments on either side of the countdown.
"It's packaging up products that our readers are already responding to," she says. "Reporting in our readership studies says that they're definitely using video to make business decisions and to find out new information about our industry."