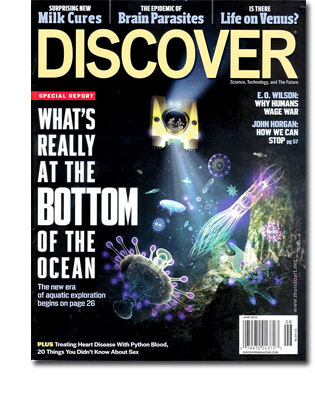 Kalmbach Publishing Company, the parent company of Discover, is closing the magazine's New York editorial offices and relocating staff to its Waukesha, Wisconsin headquarters. The offices will be closed by January 2013.
The edit team is about 20 people, including the designers, and how many will make the move is yet to be determined, says Kalmbach president Chuck Croft. The move was announced publicly yesterday, the same time the company notified staff. However, editor-in-chief Corey Powell and executive editor Pamela Weintraub will continue with the brand.
The move is mostly cost-related. Kalmbach, which bought Discover in 2010, has 16 other hobby-related brands based in Waukesha, with 275 employees. Back office functions for the magazine are already located there. Discover was the only outlier. "We don't intend any big strategic changes to the magazine or the content," notes Croft. "This is being done more for the synergy and integrating all of our media resources."
SEE ALSO: Kalmbach to Buy Discover Media
Sales staff, which was outsourced post-sale to rep firm James G. Elliott, Co., will remain as-is, says Croft.