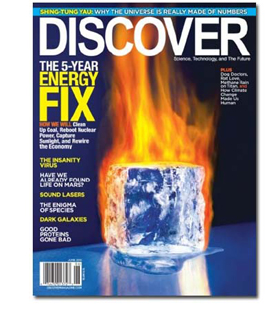 Discover Magazine, which went on the block in May, has been acquired by Waukesha, Wisconsin-based Kalmbach Publishing.
Discover Media LLC is backed by two private equity firms, WallerSutton and Sandler Capital Management. Kalmbach is privately held and publishes enthusiast titles in the crafts, models and astronomy markets.
Discover Media CEO Henry Donahue declined to reveal the terms of the deal, but described it as "real process" with a "good outcome for our investors—and it's a great outcome for the brand and the staff."
Discover has a total circulation of 700,000 and annual revenues of $14 million.
Kalmbach, says Donahue, will be keeping editorial operations in New York. Following the transition, Donahue will be leaving the company by the end of the year.
The sale process, says Donahue, consisted mostly of strategic interest and attributes the apparent success of the deal to the digital operations the brand has developed. "It put us in a good position to have an actual sale process in contrast to most of the transactions you've seen out there in the market," he says.
Kalmbach had been involved in the sale process since the brand went on the block.
Check back here for updates as the story develops.