Just What, Exactly, Is 'King?' Content, Commerce or Audience?

And does it matter?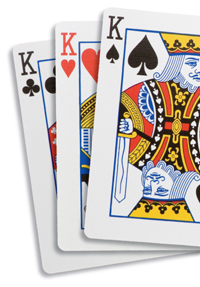 At the recent Circulation Management show, several industry leaders offered different viewpoints on what actually is "king" for publishers trying to to build an audience at a time when the way the audience uses media is changing dramatically. For some, it all starts with a focus on the audience itself.
Don Pazour, CEO of b-to-b publisher Access Intelligence, proclaimed in his opening keynote that "audience is king," essentially relegating content as subservient to the ultimate goal—attracting a high-quality audience.
The role of the circulation executive, said Pazour, is expanding to include a host of new responsibilities, central to which is the idea that audience—not content nor commerce—is king. Growing audience, said Pazour, means you're growing the company, and "if you're not growing, you're dying."
Pazour ran down a list of e-media "pure play" companies, including Light Reading, Mediabistro.com and Tech Target. "These companies were able to focus, they took time to develop and they provided multiple revenue streams," said Pazour, and, therefore, were able to secure superior audiences. This, he stressed, is what audience developers need to do for their companies in order to succeed in today's rapidly changing environment. "With our intellectual and relationship capital we should be on top and we're not."
A Vote for Content
Yet by lunchtime, content, one of the more traditional recipients of kingly status, was crowned. "What I always felt was the core of the success of The Industry Standard was it was editorially-driven, which is why I was the number-two person in the company," said the show's second of three keynoters, Jonathon Weber, former editor-in-chief of the Internet economy bible—which now exists in a Web-only format.
Weber has subsequently parlayed that content-focused approach into his two-year-old venture, NewWest.net—a media company consisting of a network of regional Web sites, a print magazine and events focused on business and life in the Rocky Mountain West. According to Weber, the site's content has been the essential driver of traffic, and subsequently, audience development.
That audience was then leveraged into an event business which, in turn, elevated the brand in the minds of potential advertisers who could see it in action in a face-to-face environment. "It helped solidify the brand identity. It didn't drive that much traffic, but helped us with advertisers, who weren't too sold on us in the beginning," Weber said.
Next came the magazine, New West, which is an 8,000-circ quarterly with a 10 to 1 controlled/paid ratio. The magazine, said Weber, is positioned as a marketing vehicle for the Web site. "The cost to produce it can almost be justified on that basis," he said.
Weber also highlighted the dramatic decline in certain cost structures inherent in building an online business. "At The Industry Standard, we spent more than $1 million building the Web site. At New West, we spent $15,000."
Currently, said Weber, New West derives about 40 to 50 percent of its revenues from the Web site, 30 percent from events, and the remainder from the magazine.
But while it's always good for publishers to consider what's "king" in driving their businesses, some observers see it as a fruitless exercise in semantics.
"Audience and content are BOTH king," Bill Baird, a circulation industry consultant, wrote in a recent post on FOLIOMag.com. "For b-to-b, they jointly drive both ad revenue and the many ancillary revenue sources that have enabled this sector to maintain growth against the odds. For the b-to-c world, the roles have varied depending on the specific market's dynamics."
SIDEBAR:
Characteristics of Great E-Media Businesses
1) Audience engagement with unique online experience
2) First movers—innovation
3) Focus—necessity to make it work
4) Time—opportunity to achieve critical mass
5) Multiple revenue streams
6) Repetition, repetition, repetition of that which works
7) Simplicity of the value proposition

Source: Don Pazour, Access Intelligence
Meet the Author
---