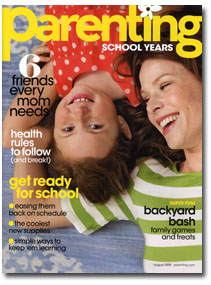 When it comes to rate base adjustments, this week has arguably been the antithesis of the entire first half of 2009.
While titles including Newsweek, New York, Reader's Digest, Prevention and Vibe (which later folded) announced that they were reducing their rate bases between February and June 2009, Food Network, Life & Style Weekly and Parenting School Years all announced just this week that they were raising their rate bases.
Is this perhaps a sign of better times ahead, or an attempt to reel in skittish advertisers?
"Circulation has been trending in a very positive direction for Life & Style in the first half of 2009," said vice president and group publisher Mark Oltarsh, who announced today that the title was increasing its rate base to 450,000 from 400,000. "We've been able to carve out a clear position in the marketplace, and readers are responding positively."
Oltarsh added that based on a new editorial direction, which includes strengthening its celebrity coverage and providing more lifestyle details, Life & Style has been able to secure new advertisers across a variety of categories, including Proctor & Gamble, Frito Lay and Burger King.
Also this week, Hearst announced that Food Network magazine's rate base is now up to one million just three months after more than doubling its rate base—quite a feat for a title the only hit newsstands in May—while Bonnier Corp. raised Parenting School Years' rate base from 500,000 to 550,000 just five months after its debut issue.
Both Parenting School Years and Food Network magazines attributed their recent success to a multiplatform strategy. "The multiplatform marketing strategy along with the strength of the Food Network brand continues to drive demand, shattering both our circulation and advertising benchmarks," Vicki Wellington, publisher, Food Network magazine, said in a statement.
But what do all of these titles have in common? They seem to each target a very specific group of readers: Parenting School Years' specifically targets the mothers of school-age children; Life & Style Weekly targets young, female readers with a strong sense of fashion and style sensibility; and Food Network captures those that are already attracted to the television network and its celebrity chef lineup.
It seems as if titles that create specific communities around relative content using various platforms will be the ones to weather the current economic storm. Go figure.