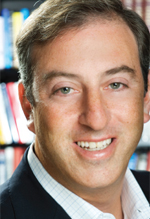 Harvard Business Review has maintained a lock on placing a premium on the value of its content, helping the brand remain insulated from the worst of the advertising downturn.
Business publications as a category took a particularly hard pounding in 2009 when the ad crunch was at its peak. Harvard Business Review, however, had already begun adjusting its content platforms to leverage a long-held strategy of maximizing value from its premium content.
At nearly 90-years-old, Harvard Business Review says it figured out its purpose in publishing—delivering content to a targeted, "premium" 230,000-plus audience. After conducting a pair of in-depth research/survey projects about who its readers/users are, the magazine last year began instituting a series of changes to help reinvent itself and to solidify its relationship with that audience.
In April 2009, the publisher reorganized into a "customer centric" model called the Harvard Business Review Group that united editorial, sales and marketing for HBR, book publisher Harvard Business Press and its Web sites. More recently, with its January/February issue, HBR launched its first significant redesign in nearly a decade. It also combined harvardbusiness.org and hbr.org.
"What we set out to do was bring together all the things we do in print, Web and magazine—to improve on the value," says Macht. "A big part of that was first unifying the magazine and Web site. And we created one editorial team and one marketing team and brought authors across platforms, from blog to book."
Another important key is HBR's lack of reliance on advertising dollars. Macht says HBR's revenue make-up is approximately 75 percent from subscriptions and e-commerce, and 25 percent from advertising sales. The magazine offers an annual print/online sub package for $140 on average. The premium value HBR places on content is critical. "Advertisers value that as well," says Macht. "We've grown the traffic to about 1 million uniques per month. We're not trying to be a mega-player, we're focused on monetizing the content."
VITAL STATS: As one of the industry's most expensive content offerings at $140 for a print/online subscription bundle, HBR's revenue model maintains a split of 75 percent subscriptions and 25 percent advertising.