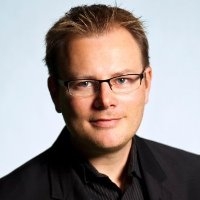 The Huffington Post is losing one of the creative forces behind several of its newer products, including Huffington magazine, HuffPost Live and its mobile apps. Josh Klenert, vice president of design and UX at The Huffington Post, is bringing his design expertise to JP Morgan Chase & Co. to help the company rethink the digital consumer experience.
He tells FOLIO: that his departure from publishing is consistent with the career choices he's made.
"I've been very lucky in my career to work on some really exciting brands, and this is consistent with work I've done in the past," he says. "I left Billboard because I had the opportunity to join Clear Channel and be part of the team that launched iHeartRadio as vice president and creative director."
Klenert left iHeart in 2011 to join AOL and The Huffington Post and says that timing was significant because it was an era of substantial growth for the company. During his tenure the company launched a multitude of new products and verticals and built out its model globally. Still, he says one of the things he is most proud of is the design team he assembled and led. "We've done a lot work to lay a foundation that will continue and thrive," he says.
And when asked about working for Arianna Huffington Klenert candidly says, "Working closely with Arianna has been incredible; she has given me so many great opportunities to work on a global brand and lead creative for an award-winning digital magazine."
In his new role, Klenert will serve as executive director of the digital customer experience team at JP Morgan Chase & Co.'s San Francisco headquarters. He will report to Tim Parsey, senior vice president of the group, and together they will lead a growing team that's tasked to bolster the brand's digital strategy.
Klenert says he plans to bring his editorial sensibility to the role. "The art of storytelling can be a consistent tool across many media and industries," he says. "Brands are starting to think more like editorial products; they are reacting to news, being more nimble and becoming more timely. It's not necessarily like comparing apples to apples, but we can all learn from each other."