Josh Heitsenrether

senior vice president of strategic services, Ziff Davis Enterprise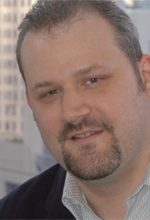 ZDE is taking over training and agency functions for many of its clients.
If "platform agnostic" was the dominant publishing catch phrase of the last five years, "business intelligence" and "marketing services" could dominate the next few as publishers move beyond core publishing duties to offer more agency-like services, including on-demand research, marketing services and market analysis.
In December 2009, Ziff Davis Enterprise  launched an enhanced bundle of audience engagement programs that are offered in three main pieces: market intelligence, integrated programs and marketing services.
"Market intelligence merges the research team together with market experts and market strategists," says Josh Heitsenrether, senior vice president of strategic services. "We've merged the two together to field larger studies of the database, larger studies of the market and combine all that with 'feet on the street' kind of insights rolled into one package that serves longer term relationships that are independent of an advertising campaign with us."
The second piece is a wide grouping of marketing services. "We have the ability to offer content services and analysis and we have analysts who can offer lead modeling and scoring and road maps for how to take leads down the sales path," says Heitsenrether.
Integrated programs offer direct execution services for clients. "As resources become more challenging on the customer side, we've been able to step up with planning and execution of very complicated integrated marketing campaigns," says Heitsenrether.
All three parts build off services ZDE offered before (in some cases, even before it's spin-off from Ziff Davis Media). In one case, Ziff Davis was engaged by a vendor to conduct a sales training and market analysis program which involved doing primary market research and then creating sales training materials, conducting the training and assessing the client's sellers.
Pricing ranges greatly. Enhanced services around lead generation might simply mean a higher cost per lead, while virtual marketing might include a monthly retainer and specific fees on deliverables. "Our base of bundled services is a relatively small part of total revenue but growing rapidly," says Heitsenrether.
VITAL STATS: Revenue is a small portion of ZDE's total but "is growing rapidly."
BACK TO THE 2010 FOLIO: 40 MAIN PAGE 
Meet the Author
---