Jonathan Shar

General Manager, Digital Newsstand and Emerging Digital Content, Barnes & Noble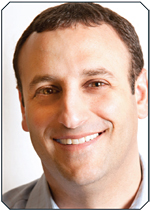 Shar is perfecting the NOOK newsstand to enhance the digital content offerings of the device—a welcomed move for publishers.
Every publisher says it: We want to be everywhere the reader is. As the iPad takes off, Shar is pushing back and turning Barnes & Noble's NOOK into a "must-be" space for magazines.
Shar is responsible for the end-to-end relationships that customers have with digital periodical content—everything from a user's reading and discovery experience to the organization and delivery of digital content on the NOOK Newsstand.
"A little less than 18 months ago is when NOOK Newsstand really launched," he says. "We needed to create a customized and truly immersive experience for NOOK Color. We focused on the user experience—we wanted to take a beautiful magazine and keep the true equity of the individual brands intact while making them readable on NOOK Color."
Over the last year, Shar says his biggest accomplishment was working aggressively to ensure that Barnes & Noble could step into a new role with magazine publishers and their consumers—one that extends outside of print and into digital. While the offering has helped publishers increase content sales and foster digital discoverability, Shar's work has helped Barnes & Noble become a major player. During the nine-week holiday period ending December 31, 2011, NOOK sales increased 70 percent over the same period last year. Digital content sales grew by 113 percent for the same period.
"The opportunity with digital is really amazing," he says. "The relationships we have with customers, through the brands they love and subscribe to, we have an opportunity like never before. We're focused on taking the value proposition to the next level."
VITAL STATS: As of January 2011, the NOOK Newsstand exceeded 650,000 digital periodical subscriptions and single copy sales. The consolidated NOOK business across all of the company's segments, including sales of digital content, device hardware and related accessories, increased 38 percent during the third quarter to $542 million, on a comparable sales basis.  NOOK unit sales as of February increased 64 percent during Barnes & Noble's third quarter. Digital content sales increased 85 percent, which include digital books, digital newsstand products and the apps business.
Meet the Author
---