Jonathan Moffly

President, Moffly Media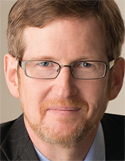 For digital publishing, our platforms are Zinio for replica flipbooks, GTXcel's Rivista CMS for websites, and StreamSend for e-newsletters, plus the usual suspects Facebook, Twitter and Pinterest social media channels with various vendors lending tools to manage. On the backend, good CRM and design tools are critical, all of which are only as good as you make them.
Big Move on the front-End: Responsive design
Rivista is the one technology that is making the biggest difference for us on the front end. With one of their latest offerings, responsive design, our content now sizes for best reader experience according to platform—phone, tablet or computer. Mobile users are increasing rapidly year after year, and forecasted to overtake the desktop by 2015. In the past year, mobile and tablet traffic has grow 83 percent and 81 percent respectively. We are moving towards a mobile-first strategy, with responsive design being one answer to the fast changing technology and consumer interest landscape. We must provide content to viewers when and where they need it—all in realtime.
In terms of strategic investment in front-end platforms, we are proceeding opportunistically and, when possible, with iterative smaller steps. We try a small investment, test the results, adjust, and repeat. Our bigger bets have not paid off as well as smaller ones. Our opportunistic approach is predicated on several operating beliefs from our small business vantage point:
• Large investments are higher risk with rapid changes in technology.
• Rapidly evolving technologies are not going away. And the ever-changing consumer behaviors and data algorithms to track them are moving just as fast.
• Nothing digital is permanent as long as it involves human behavior.
• Adaptability is best baked into all digital investments from the beginning.
Lastly, these rules can be broken should the right opportunity present itself!
Meet the Author
---