Jon Stewart on New Yorker's Obama Cover: 'It's Just a F*%#ing Cartoon!'

Daily Show host weighs in on controversy.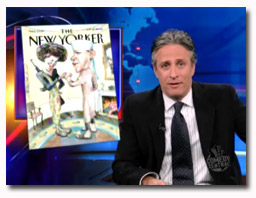 Among the absurd amount of reactionary hype the New Yorker's controversial Obama cover generated this week, my favorite response comes from the Daily Show's Jon Stewart, who sums up some of my sentiments nicely.
He also criticizes Obama for denouncing the cover:
"Really? You know what your response should've been? It's very easy: Barack Obama is in no way upset about the cartoon that depicts him as a Muslim extremist. Because you know who gets upset about cartoons? Muslim extremists! Of which Barack Obama is not. It's just a f*cking cartoon!"
Check out the video:
Meet the Author
---