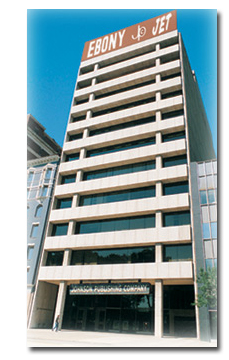 After spending nearly four decades headquartered in the historic building located at 820 S. Michigan in Chicago, Johnson Publishing has sold the building to Columbia College Chicago. The Ebony and Jet publisher says the sale is part of the company's strategy for reducing costs.
Financial terms were not disclosed.
"When we learned of Columbia's interest in preserving the building and using it to expand opportunities for young people to study visual, performing, media and communications arts, we knew this was an opportunity that we should pursue," Johnson chairman and recent ex-CEO Linda Johnson Rice says in a statement.
The sale agreement calls for Johnson to continue to occupy the building [pictured] under an 18-month lease. Johnson expects to form a building committee to determine where to relocate.
Johnson says it currently occupies only about 40 percent of the building. It is the company's fourth headquarters since its founding in 1942.
Standing at 11 stories, the 110,000-square-foot building was constructed in 1972. According to Johnson, it was the first major downtown Chicago building designed by an African-American since Jean Baptiste Point DuSable built a log cabin on the Chicago River in 1722.