Johnson Publishing Moving Away From Magazines?

Report: Chicago-based publisher eying sale of flagship Ebony magazine.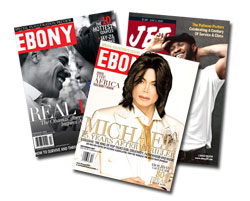 Magazine M&A has been rife with rumors and speculation over the last several weeks. One such report came from Newsweek on Friday, indicating that Chicago-based Johnson Publishing is shopping its flagship Ebony, the general interest African American magazine it launched in November 1945.
According to the Newsweek story, Johnson CEO Linda Johnson Rice—daughter of founder John H. Johnson—has approached a number of private equity firms and media companies, including Essence publisher Time Inc. and BET owner Viacom, about them buying the ailing monthly. Through the first half, the magazine saw ad pages tumble 34.7 percent, according to PIB figures.
I contacted a Johnson Publishing spokesperson this morning to find out the company's stance. In an e-mail, the spokesperson wrote: "As we've indicated previously, we are exploring a range of options to support our core media business. However, we are not in discussions with Time Inc. and Viacom."
OK, so Time Inc. and Viacom might not be in the picture, but the response doesn't deny that Ebony is indeed on the block. If Johnson is hawking Ebony in an attempt to support its "core media business," does that suggest the company is moving away from magazines?
Might Johnson consider selling its sister title Jet, too? It didn't fare much better through the first half, with ad pages declining 39.5 percent. Earlier this month, Johnson pulled the plug on this year's Ebony Fashion Fair—the company's fund-raising annual traveling fashion tour—citing "overall economic challenges."
Lots of publishing companies have struggled to stay afloat this year. The idea, however, of Johnson selling off its flagship magazine is one to make you take pause.
Meet the Author
---