Johnson CEO Expects Jet, Ebony To Return to Rate Base in 2011

Company to increase sales staff in New York office.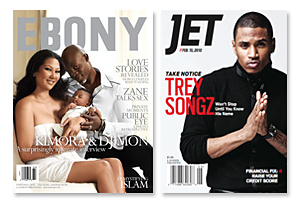 Johnson Publishing CEO Desiree Rogers expects both Jet and Ebony to return to their rate base in 2011, she tells FOLIO. "We're working hard on our circulation and we've given a lot of thought to the fundamentals of the business," she says.
The magazines, which missed rate base for the second half of 2009 (Ebony reported an overall circ of 1,169,870 compared to a rate base of 1,250,000, while Jet missed its 900,000 rate base, reporting an overall circ of 795,055, according to the Audit Bureau of Circulation's FAS-FAX report), didn't file in time for the first half 2010 FAS-FAX, but an ABC Rapid Report showed the magazines continuing to slide, with Ebony posting total paid circulation of 1,068,383, while Jet had total paid circulation of 750,978 for the period ended June 2010.
Johnson, which last week sold its Chicago headquarters to Columbia College Chicago, is also expanding its New York City office. "The new head of sales will be located in New York and we will also increase the editorial presence on the East Coast," says Rogers.
The publisher has welcomed several new executive hires in recent months, including chief marketing officer Rodrigo Sierra. "We're bringing in new leaders who have experience and coupled with the historic team that has been here for the longer term, there will be a great and winning combination among those teams," says Rogers. "Right now it's so busy because we're looking to upgrade both books, plus the cosmetics line without losing the rich history that's been established. In no way do I want anyone to think we're walking away from our history. We want that old excitement back. We have to remain focused on what we're trying to achieve as a unit."
Meet the Author
---