John Sateja

EVP | Consumer's Union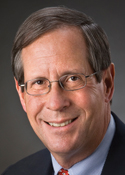 In an industry that has seen the sharpest slide in advertising pages in over a decade, Consumer Reports sits in an enviable position: it doesn't accept ads.
Still, its revenue growth has been small—about 1.5 percent year-over-year through December—and John Sateja, executive vice president of the Consumer's Union, says he is looking for "modest growth" in 2009, notable, when most of the consumer magazine industry was down or, at best, flat in 2008.
To achieve this growth, Sateja says the company has added staff in key areas related to Web design and Web development, has built out its health and money franchises, and has increased testing—the core value of the company's product offerings.
The company's revenues are about $240 million, Sateja says, fueled by 8.5 million paid subscriptions both online and in print. (Print revenue is flat, Sateja says, but ConsumerReports.org is growing.)
Consumer Reports is also trying to get younger. In December, when the Consumer's Union acquired the Consumerist, an irreverent blog, from Gawker, it was buying it as much for its voice as its youth. "Consumer Reports is 40-60 plus," says Sateja. "Consumerist is 18-40." (The company, as per its policy, immediately stripped the Consumerist of advertising, hoping to turn its significant traffic into subscriptions.)  They also launched a blog, Tightwad Todd, which has seen traffic soar as a result of the economy's belt-tightening.
Sateja says another one of his goals is to maintain the company's margins while keeping "a reasonable level of profit to run the business." His number one goal, though, is to preserve jobs. "We have over 600 on staff," Sateja says, "and have been growing by about 50 year-over-year."
Yet Consumer Reports is cutting back on discretionary spending and new hires, even shifting resources and editors to cover money issues.
But that doesn't mean a full-scale freeze.
"We're fundamentally different than the ad based models," says Sateja. "We think our products are affordably priced."
Where They Will Grow: Consumer Reports' "money" franchise has become increasingly important to consumers in a recession, and the company has shifted resources accordingly.

Where They Will Save: Managing staff growth, and, like the consumers they serve, cutting discretionary spending.
 
Quote: "We place our bets carefully."
MAIN PAGE
Todd Matherne CEO | Renaissance Publishing
Toyin Awesu publisher and editor-in-chief | AvenueReport.com
Cameron Brown president | King Fish Media
Deborah Esayian co-president | Emmis Interactive
Efrem "Skip" Zimbalist CEO | Active Interest Media
Justin Smith president | The Atlantic
Steven Kotok general manager | The Week
Len Burnett co-founder, co-CEO | Uptown
Risa Crandall VP | Scholastic Parents Media
Janet Libert editor and publisher | Executive Travel SkyGuide
Mike Domke founder and president | Milo Media
Jim Prevor CEO | Phoenix Media Network
Kent Brownridge general manager | OK!
Samir Arora CEO | Glam Media
Jim Vick staff director/publisher | IEEE Spectrum
Pete May president | Greener World Media
Barb Newton president | Sunset Publishing
Paul Mackler | CEO | HMP Communications Holdings
Harry Sachinis | president | McGraw-Hill Business Information
Meet the Author
---