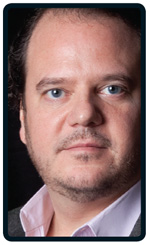 Headed up by CEO John Lerner, Breaking Media is an online only b-to-b publisher.  Their four sites, combined, lay claim to 1.85 million unique visitors monthly.
John Lerner has been around the block, amassing 20 years of experience in the b-to-b and niche consumer markets, starting out in traditional media and then eventually running the online businesses at VNU, Nielsen and F+W.
Of Breaking Media, and the advantages an online-only publishing venture has over traditional print media, Lerner says: "When you have a sustainable business, even though it's shrinking, you want to ride that horse as long as you can. This is my first foray into online-only media … I find it makes it easier to try new things, experiment more and focus on where the growth is—all without the pressure of having to maintain a print business that is shrinking every year."
Breaking Media currently covers four industries with sites Above The Law (legal), Fashionista (fashion), Dealbreakers (finance) and AltTransport (efficient transportation) that are, at times, irreverent, controversial, contentious and informative.
"We're engaging our audience in a much more dynamic way; our voice is very irreverent," says Lerner. "The classic b-to-b publisher skirts issues in an attempt to make their content more palatable to advertisers. And, initially there was some resistance from advertisers that didn't want to be around content that was so contentious. But, I know the reason we have reach is we're talking to people in the way that they communicate. A good story will have 200 comments."
The company offers marketers the opportunity for lead generation, via product giveaways. All giveaways feature a banner on top of the specific home page which drives readers to a sign-up page. Breaking Media promotes the giveaway to their e-mail list, Twitter followers, and Facebook friends. When users sign up for the giveaway, the information is shared with advertisers.
Breaking Media also offers marketing "roadblocks," which give a brand exclusive ownership of a given Web site's front page, with all banner positions promoting that advertiser's brand or product throughout a single day. 
VITAL STATS: Breaking Media's four Web sites claim a combined 1.85 million unique visitors per month. Above The Law and Fashionista each claim 700,000, Dealbreakers claims 400,000 and AltTransport claims 50,000.