John Jiloty

Vice President and Editor-in-Chief, Inside Lacrosse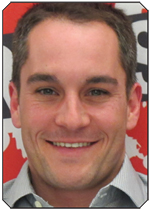 Refocused Inside Lacrosse to get closer to the players and provide content that appeals to the current player.
Inside Lacrosse's John Jiloty plays a big role at a small publication by overseeing the entire editorial operation including the print magazine, Web content, and its "Face-Off Yearbook." Since taking on this role, Jiloty has been instrumental in evolving the brand, and changing its editorial focus.
Changing a magazine's editorial focus can be a bold decision. However, for Jiloty, it was the only one. When asked why change focus Jiloty says "We never rest on our laurels, we have to keep an eye towards doing something new." Inside Lacrosse, which has a circulation of around 40,000 subscribers, is now focused on identifying with and providing content for the "current lacrosse player." The award-winning magazine added between 6-8 pages of content that focuses on new and innovative equipment. According to Jiloty the idea behind the new focus is to "feed the fans" and "grow the brand into new areas."
A 35 percent increase in Internet traffic to InsideLacrosse.com is one indication that Jiloty is expanding the brand's reach. Not surprisingly though, Jiloty is looking to do more to connect with lacrosse fans, and more importantly players. For instance, he has placed an increased emphasis on establishing a strong social networking presence. The magazine has over 22,000 Twitter followers, which is more than half the number of paid print subscribers. More significant, the magazine's Facebook page has more "likes" than paid subscribers, with more than 55,000.
Looking ahead, Jiloty is eagerly anticipating the launch of ILgear.com, a site that caters specifically to lacrosse players by offering access to gear, instructions, and fitness and lifestyle tips. Also, later in the year the publication will be launching a social network that will give lacrosse players the opportunity to connect and interact with one another.
VITAL STATS: Inside Lacrosse increased subscriptions by 28 percent from April 2011 to April 2012. The magazine also increased ad revenue by 30 percent in 2011.
Meet the Author
---