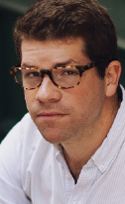 Digital Editor,
Lucky Magazine
Age: 26
Takeaway: Driving the brand's growth across social media platforms, this digital editor has helped increase Facebook referral traffic by 2,000 percent year-over-year.
Jannuzzi began his journey in media in 2009, starting out as a marketing coordinator with designer clothing company Kate Spade before joining Condé Nast in March 2011 at the request of Lucky's editor-in-chief, Brandon Holley. Since then, Jannuzzi has been responsible for Lucky's rise on the social media circuit.
"I work heavily in social media, making sure that all of our feeds are being maintained the best they can," he says. "For the past 12 months, there have been so many different platforms to manage. It was feasible to have one person manning them all, but it's shifted to a team effort that I'm overseeing. It's still a big learning process."
Year-over-year, Lucky's Facebook following has increased by more than 150,000 fans (as of press time, a total of 212,700 fans), which represents about a 400 percent increase. Twitter has grown by over 100,000 followers year-over-year (up to 152,685 at press time), or by about 300 percent. Facebook referral traffic has increased at "an insane amount," says Jannuzzi—over 2,000 percent year-over-year. Lucky is currently the number two-fashion brand on Foursquare behind fashion designer Louis Vuitton, he says.
As the brand's Digital Editor, Jannuzzi serves as the bridge between the blogger community and Lucky. He currently leads the blogger content flow for Lucky's recently launched user-generated platform, "Lucky Community," which features the most influential fashion voices in media. The platform allows readers to hear from their peers as well as from editors.
"We're building these really strong communities," he says. "It's helped us get a foothold on the Web. The Lucky Community lets us provide hyperlocal content, plus-size content, nail art and natural hair—any kind of content you'd want. We're building up the users, and there's a voting mechanism there as well. It's a way for the readers of the website to discover new voices across the Web."