John Harris

editor-in-chief and co-founder, Politico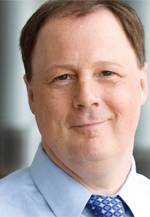 Harris steers the editorial strategy of a multi-media operation that has exploded onto a crowded Washington D.C. political news arena.
Former U.S. president Bill Clinton recently named Politico among his favorite sites on the Web. How has this Washington D.C. start-up, that launched in early 2007 in a crowded political news field (read: the Washington Post, Washington Times, Roll Call, The Hill, etc.) catapult to roughly 3.5 million unique visitors and approximately 25 million page views per month?
"Our editorial model is based on seeking to dominate a niche—in our case, national politics and the workings of Washington," says co-founder and editor-in-chief John Harris. "The reason we have been able to compete so vigorously in our niche is that we recruit and develop journalists to be franchise players … this is different than many publications, who in many ways treat journalists as commodities." Another of the brand's strengths, Harris says, is that the Web always has been at the core of its efforts, so it had a jump on traditional publishers that had to adapt to the Internet-fueled around-the-clock news cycle.
Harris co-launched Politico in January 2007 after he and political correspondent Jim VandeHei resigned from the Washington Post. They were convinced by Allbritton Communications owner Robert Allbritton to start a multi-media news operation with a heavy focus on online.
The site launched and, initially, the print publication was distributed three days a week. Today, 33,000 copies are distributed five days a week, mostly for free on Capitol Hill and around greater Washington, D.C. While the Web site carries a dramatically higher national audience, Harris says the print edition "remains a very vital platform" for readers and advertisers.
While Harris declined to comment on specific performance figures (Politico is owned by the Capitol News Company—a private venture), he says the brand achieved "robust profitability" last year and that it aims for a 50-50 revenue breakdown in terms of print versus a combination of Web and e-commerce. "Our editorial costs have grown considerably as the publication has expanded, but our ad revenue has grown much more vigorously," he says.
VITAL STATS: Harris says Politico.com pulls in roughly 3.5 million unique visitors and approximately 25 million page views per month.
BACK TO THE 2010 FOLIO: 40 MAIN PAGE 
Meet the Author
---