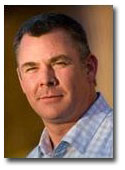 After 15 years with Hachette Filipacchi Media U.S., John Driscoll, senior vice president and chief brand officer for Car and Driver and Road & Track, is no longer with the company. He announced his resignation to staff on Wednesday.
Today, it was announced that Driscoll [pictured] has joined Zionsville, Indiana-based Just Marketing International as vice president of partnership development of its motorsports agency.
A Hachette spokesperson said Driscoll's replacement hasn't been named.
Driscoll told FOLIO: that leaving Hachette was a difficult decision. "At JMI, I was given a great chance to join a company in a growth mode in an exciting business," he said. "Car and Driver and Road & Track are great brands and will get better in the future. I am still very optimistic for great brands, which includes brands with a solid print footprint."
Driscoll joined Hachette in 1995 as Western advertising manager for Cycle World. In 1998, he joined Hachette's auto group as Western advertising manager and was later promoted to Western director. In 2004 Driscoll was promoted to associate publisher and again in 2008 to vice president and group publisher of the automotive group.