John Byrne Out at BusinessWeek

Executive editor announces plans to launch a digital media business.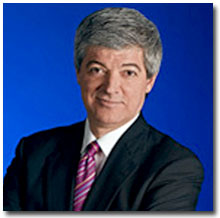 Another top BusinessWeek staffer has announced his resignation from the magazine as it readies its transition from McGraw-Hill to Bloomberg.
In a memo to staffers Tuesday, executive editor and BusinessWeek.com editor John Byrne [pictured] said he will resign next week. It had been previously reported that Byrne was among the magazine's longtime staffers who would in fact remain with the magazine under Bloomberg ownership.
In the memo, Byrne—who recently married and relocated to San Francisco— said he is planning to launch a digital media company. "I'm flattered and thankful that Bloomberg provided me an opportunity to stay with BusinessWeek, but my passion to chase this entrepreneurial venture feels like the right move at this stage in my career."
Rumors of Byrne's resignation have circled since last month.
Last week, BusinessWeek saw as many as 130 staffers lose their jobs as part of the transfer to Bloomberg. Among them was noted media columnist Jon Fine.
Longtime editor-in-chief Stephen Adler announced his resignation last month.
Meet the Author
---