Jimmy Kimmel Channels Infamous Jon Stewart MPA Appearance at 'Upfront' Event for Advertisers

Perhaps media companies should stop hiring comedians to promote them.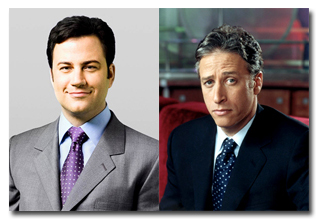 RELATED VIDEO: Kimmel's Upfront Presentation
A few years back, the Magazine Publishers of America organized a rally during television's "Upfront Week"—the annual glitzy gathering of network executives and media buyers where fall programming lineups are unveiled by their on-screen stars—staging a peaceful protest outside of the Upfronts wearing goofy t-shirts. The stunt was part of the MPA's three-year, $40 million advertising campaign touting the power of the print medium—and to remind potential ad buyers heading into the network's pitch that magazines  are here too!
Perhaps the MPA should've hired Jimmy Kimmel.
Kimmel, comedian and the host of ABC's Jimmy Kimmel Live, spoke to advertisers during his network's presentation, and promptly eviscerated Jay Leno, the business of Upfronts—and ABC itself.
"If Jimmy Kimmel still has a job at ABC on Wednesday," the New York Times wrote, "he is either a very lucky or very deft comedian, or he has great blackmail photos of the network executives."
"Everything you're going to hear this week is [bullshit]," said Kimmel. "Let's get real here. Let's get Dr. Phil-real here. These new fall shows? We're going to cancel about 90 percent of them. Maybe more.
"Every year we lie to you and every year you come back for more," he continued. "You don't need an upfront. You need therapy. We completely lie to you, and then you pass those lies onto your clients."
Kimmel added: "I think all our shows are going to work this year. I really do … I don't, really. The important thing to remember is, who cares? It's not your money."
Déjà View
The scene reminded me of another event staged for advertisers in which a comedian, hired to entertain, took a hard left turn into a Friar's Club roast territory.
The comedian, you may recall, was Daily Show host Jon Stewart, who was hired by the MPA for a reported $150,000 to host an Advertising Week event in 2005. Instead, he delivered a blistering rant on the magazine industry in front of a roomful of gasping advertisers and shocked magazine executives.
It started innocently enough. "Do the men on the cover always have to be—what's the word—glistening?" Stewart asked Men's Health editor Dave Zinczenko. "I enjoy health, yet when I read the magazine, I don't know whether to go to the doctor or rub my nipples."
Stewart turned to Jim Kelly, Time magazine's editor at the time: "Time magazine has been a tradition in America, yet…what's happened? One federal prosecutor says 'let me see your notes' and immediately everyone pulls their underwear over their heads and hands it over—Not only that … Newsweek breaks the story."
Soon, though, it devolved into an attack on print's relevance in the 24-hour news culture.
"The way news is driven today is not through print," Stewart said. "I don't consider print media as relevant," adding that his infamous appearance on CNN's Crossfire that year wouldn't have had the same impact in print. "I wouldn't have walked into a newspaper or magazine and gotten angry, because they're not the ones driving the discourse."
Meet the Author
---