Jim Vick

staff director/publisher | IEEE Spectrum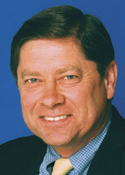 For association publishers, which are more membership acquisition resources than circulation operations, one big weakness in a hurting economy, when so many people are cutting personal expenses, is losing members to pricey membership fees. For Jim Vick, staff director/publisher of Spectrum, the magazine for the Institute of Electrical Electronics Engineers, the recession provides a challenge, but also a huge opportunity.
IEEE, Vick says, has surveyed its 380,000 membership base to determine alternative membership models that it hopes will be more attractive to several existing members as well as attract many more. The new membership models will feature a reduced number of active benefits—including an option for digital delivery of the magazine instead of the traditional print edition—at lower costs.
"Like all associations, IEEE is concerned about the future of membership and keeping people wanting to be a part of the association," says Vick, who indicates the initiative could increase membership as much as 30 percent. "This is significant because, if this all comes together, we'd be taking our circ up to well over 450,000 or 500,000."
In addition to reducing costs for its members, Vick says reduced membership models, especially digital delivery, would drive down the magazine's production costs. Right now, digital delivery accounts for about 11 percent of the magazine's overall circulation.
Another big issue for IEEE is maintaining its print accountability. "I'm amazed that some major publishers are dumping audits," Vick says. "While we're looking to build our digital readership, there's no question that we're going to continue a print magazine, even if I don't generate the ad revenue to be able to support it.
"That's one thing an association is willing to do because it's a member benefit," he continues. "The opportunity is to make the case that if you buy print, you'll have a strong assurance because we have an audit and what we say we're selling you is really what you're going to get."
Where They Will Grow: By offering reduced benefit/rate membership models, IEEE projects membership could grow up to 30 percent.
Where They Will Save: The new models, featuring digital delivery instead of print, will save the association on production costs.
 
Quote: "If this all comes together, we'd be taking our circ up to well over 450,000, 500,000. Anything I can do to improve the number of members we have globally only works to our benefit."
MAIN PAGE
Todd Matherne CEO | Renaissance Publishing
Toyin Awesu publisher and editor-in-chief | AvenueReport.com
Cameron Brown president | King Fish Media
Deborah Esayian co-president | Emmis Interactive
Efrem "Skip" Zimbalist CEO | Active Interest Media
Justin Smith president | The Atlantic
Steven Kotok general manager | The Week
Len Burnett co-founder, co-CEO | Uptown
Risa Crandall VP | Scholastic Parents Media
Janet Libert editor and publisher | Executive Travel SkyGuide
Mike Domke founder and president | Milo Media
Jim Prevor CEO | Phoenix Media Network
Kent Brownridge general manager | OK!
Samir Arora CEO | Glam Media
John Sateja EVP | Consumer's Union
Pete May president | Greener World Media
Barb Newton president | Sunset Publishing
Paul Mackler | CEO | HMP Communications Holdings
Harry Sachinis | president | McGraw-Hill Business Information
Meet the Author
---