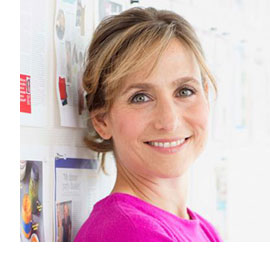 Hearst Corp. president and CEO Steve Swartz and Hearst Magazines president David Carey looked inward in recruiting Redbook editor-in-chief Jill Herzig for the same position at Dr. Oz The Good Life.
Her hiring, announced Wednesday, comes after word that the magazine will go to a 10X frequency with the Aug./Sept. 2014 launch after successful test releases in January and April. They were under the editorial direction of Alison Brower, but she is leaving Hearst Magazines to return to California.
In terms of magazine seniority, Dr Oz is quite a change for Herzig because Redbook
is 111 years old. However, shaking up the norm isn't something Herzig is shy about doing. She did upgrade the beauty and fashion portion of Redbook content from 30 to 50 percent in April 2013 while ending such former editorial mainstays as parenting and relationships. When she was at Redbook she told min that her role was "a never-ending process of keeping Redbook fresh."
From 2003-2010, Herzig was Glamour executive editor and top lieutenant to editor-in-chief Cindi Leive. Earlier career stops included SELF, New Woman and Cosmopolitan under the late editor-in-chief Helen Gurley Brown.
The magazine is set to open with a 450,000 rate base, and will complement Oz's syndicated television talk show.
"He's convincing America that a healthy lifestyle is the bedrock of happiness," says Herzig in a statement. "I'm looking forward to working with him to create a rich, imaginative editorial package for that transformative message."