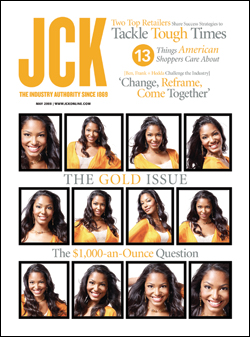 We've heard the bad news from the Audit Bureau of Circulations' first half Fas-Fax report. We've also heard New York magazine's good news clamoring above it—a 3.4 percent increase in single copy newsstand sales, even with a 20 percent cover price increase.
Jewelry industry magazine JCK, published by Reed Business Information, clearly chose the right magazine to imitate for its May, pre-show issue—one of its most important of the year. According to creative director Todd Gast, JCK's cover was inspired by New York magazine's reprisal with Lindsay Lohan of the famous Marilyn Monroe "Last Sitting" photo shoot—an issue which sold 43,791 single copies, more than any other New York magazine cover during the first half and nearly double its period average of 22,572.
One thing JCK didn't copy was New York magazine's choice to go with one photo instead of the contact sheet look. FOLIO: Face Up panelist Crystal Madrilejos, an art director at Wise Group, didn't approve: "I don't think all the small photos are making the impact that one great photo, or amazing typography, could."
What do you think?
Take the Face Up survey and get a chance to win an iPod Shuffle.