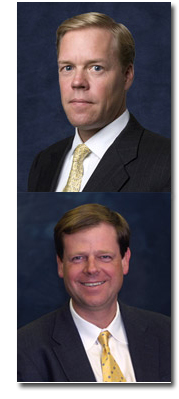 Media investment bankers the Jordan, Edmiston Group Thursday announced that managing directors Tolman Geffs and Scott Peters were named co-presidents. The announcement was made by chairman and CEO Wilma Jordan.
Peters [pictured right, top] joined JEGI in 1997 and was appointed managing director in 1999. He has managed more than 80 transactions in consumer and business information, marketing services and online media. Recently, he completed e5 Global Media's acquisition of Nielsen Business Media's media/entertainment properties.
Geffs [pictured right, bottom] joined JEGI in 2004 and has managed several transactions in online media, interactive marketing services, and technology. Prior to joining JEGI, Geffs held a number of senior executive positions in magazine publishing and served as CEO of Internet Broadcasting Systems, a national network of 70 local television Web sites.