Jeffrey Litvack

Senior Vice President, Digital Media, ALM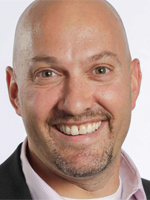 Takeaway: In his first year, Litvack introduced several new products and product refreshes.
Taking on a role that has never existed before can be a unique challenge. But it is a challenge that Jeffrey Litvack embraced with eagerness.
"What drives me on any given day is the transformation happening," Litvack says. "How can we leverage technology and data and the information we're gathering into the best products and marketing and sales opportunities?"
Litvack has answered on that question; ALM increased its order size by 96 percent after his team launched a digital membership program; newsletter click-thru rates have increased 99 percent after mobile optimization and after replacing an ad serving platform with a rich media platform, advertising solutions have increased two-fold.
Despite Litvack being proud of ALM's digital transformation, he maintains that some of his biggest achievements are less tangible. "The first place you start as a leader is with the people," he says. "There was a combination of bringing in some great new talent, as well as—more importantly—empowering the people that were already here. Transforming a company is not just about trying to put out great new products, it's about a mindset that everyone goes after."
Litvack says that in the year to come ALM's goal is to get bullish with big data and personalization. Expect more apps and digital products from ALM in 2014.
Meet the Author
---