Jeff Bezos

Founder, CEO, Amazon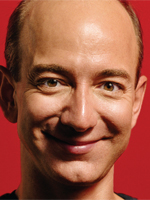 • Amazon has become a critical partner for publishers in their digital edition sales and subscription efforts. This is in addition to the myriad affiliate partnerships publishers have traditionally leveraged through their own ecommerce efforts.

•  Bezos caused a stir when he, personally, purchased The Washington Post for $250 million.
•  He is also an investor in business news site Business Insider.
Meet the Author
---