Jed Hartman

Group Publisher, Time Inc – Fortune and CNNMoney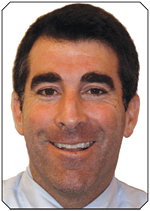 Hartman has one primary goal for 2012 and beyond—expansion.
"Culture" is commonly overlooked when developing a business plan. However, for Jed Hartman, group publisher of Fortune and CNNMoney, "culture is as important as strategy." Since taking on his role with Time Inc. Hartman incorporated that thinking when he shifted the organizational structure to focus on "expanding the brand essence."
From a strategic standpoint, Hartman has been "relentless" in growing his brands. For instance, he added 22 new sales executives to his team. When asked if this was an effective move his answer was simple "six straight quarters of growth." A sound argument, but numbers aren't the only thing for Hartman, "Two things I care about most, morale and numbers, and the two work hand-in-hand." The numbers seemed to be working into 2011—six consecutive quarters of growth including an increase of 4.5 percent in ad revenues and "double-digit growth" in conferences. Unfortunately for Hartman, there is not a company morale index to track, however, keeping with his philosophy, one could speculate that morale is moving in tandem with the numbers.
Hartman recognizes that in order to grow, expand and reach new audiences, culture has to be taken into consideration. Hartman uses "social strategies" as a tactic for developing a new audience. Meaning he looks to understand his audience before he can market to them and provide content that is attractive to them. His somewhat unique approach aided Fortune's Most Powerful Women Summit to hit a record number of attendees in 2011, leaving 200 people on the waitlist. 
Looking ahead, Hartman is focused on four specific objectives: To expand the existing franchises, add new franchises, expand the conference division, and expand Fortune's digital footprint.  Thus far in 2012 Hartman's group is on track  with a  14.8 percent increase in revenues.
VITAL STATS: Since becoming group publisher Hartman has added 22 sales executives to his team and boasts six consecutive quarters of growth, an achievement not seen at Fortune since 1999-2000.
Meet the Author
---