Jay Hook

Director of Online Strategy | Reni Publishing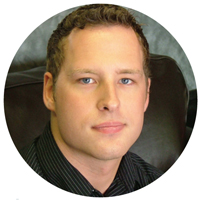 "It's been an interesting push," says Jay Hook, who oversees the online strategy for savvy small publisher Reni. "I'm seeing publishers making transitions from news provider to technology provider."
Hook, who was previously Reni's director of technology, says the main change "is more contact with our sales team. It's all about training and getting them to understand that the Web isn't a wall, it's a bridge."
For a number of years, Hook has been at the forefront when it comes to using open source solutions, which is what many of the sites like Flickr, Twitter and Facebook are based upon. The company considers its technology a strategic investment, with many of its open source technologies in house, which reduces operational costs. "Even if it isn't our technology, it is all about implementation and delivery method," he says. "Personally, I feel that open source in the publishing world is going to become a turning point for many independent publishers as they become more user-friendly and feature-rich."
In August 2006, the static site for Florida Real Estate Journal averaged 750 monthly unique visitors, but after some basic tweaks and a $1,000 software investment, Reni had 50,000 unique visitors by the end of 2007.
Reni is in the process of looking at a free site for creating digital editions, called Issuu. "It also has its own markup language, which is used to control the viewer's theme," he says. "This means that designers will have the ability to create all kinds of new things." Open source, he says, "has no major downsides. Who wouldn't want 10,000 programmers working on their project as opposed to two?"
However, some larger publishers aren't so sure. "They want to keep things in-house, when sometimes it's best to let go. Ning is a perfect example of what the publishing industry can do. They introduced new features and found a way to charge that made sense to consumers."
VITAL STATS: With only a $1,000 tech investment, Reni took 2006 traffic from 750 to 50,000 monthly uniques.
Meet the Author
---