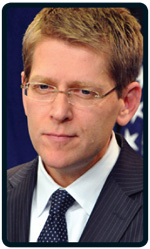 He moved from journalism to the highest level of government, demonstrating the sustained power of media to influence government.
Jay Carney, the current White House Press Secretary, represents the simultaneously tense and symbiotic relationship between the media and government.
On the one hand, journalists exist to challenge government officials, to tweak them, to hold them accountable. On the other hand, the media has enormous influence on public officials, and sometimes that influence and power is demonstrated through the ascension of media executives and journalists to high government offices. Carney is the most recent example, and one of the most prominent.
Carney was named White House press secretary in late January, promoted from a communications post for Vice President Joe Biden. Prior to that, from 2005-2008, he was Time's Washington bureau chief, a post that capped a two-decade stint with Time.
Carney was one of the early bloggers for Time.com, posting prolifically on the "Swampland" blog. His posts, many of the more recent ones on the 2008 presidential election, and generally mildly critical of the Republicans, remain on the Time site.
So how do Carney's former peers—famously adversarial towards press secretaries over the years—think he's doing? Generally, they're sympathetic. "Mr. Carney's answers were shorter and crisper than typical responses from Mr. Gibbs, who, like his boss, was given to filibustering," The New York Times wrote on February 16th. "Mr. Carney was businesslike; Mr. Gibbs typically punctuated his briefings with jokes and sports talk, his banter belying the generally strained relations with the White House press.
There was one constant: By the end of the hour, like Mr. Gibbs generally, Mr. Carney had provided a lot of quotes but no news."
Early in April, Carney was himself the subject of press coverage when financial disclosures revealed that he received a $270,000 severance package from Time Inc.
The payment, according to several different news outlets, raised questions among observers because of its huge size and about corporate gifts to government officials.
VITAL STATS: Carney received a $270,000 severance package when he left Time Inc. and moved into government.