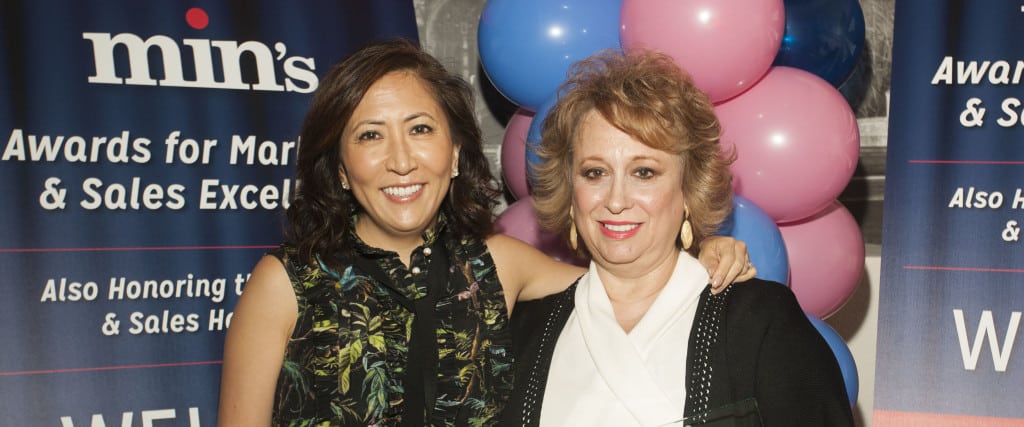 ---
The chief architect of The Hollywood Reporter's revival, Janice Min, is stepping down from her role as editor-in-chief. Min joined the brand seven years ago, and has been repeatedly applauded across the industry for how she reimagined a legacy B2B brand. She didn't stop with THR, however, she also orchestrated a similar makeover for sister brand Billboard.
Min (pictured, left with THR publisher, Lynne Segall) will vacate her editorial top spot at the end of February, when her three-year contract expires. She is remaining with parent company, Eldridge Industries, where she will take on a role that allows her to influence media investment strategies, according to reports.
Speculation is abound that Min made her decision based on the assumption THR and Billboard will be sold at some point in the near future, yet no likely buyers have been named so far. It's worth noting that Min has an ownership stake in THR.
Replacing Min will be Matthew Belloni, who was serving as editorial director. Belloni will oversee the entire stable of content products, including print, digital, video, TV and events. The New York Times reports that Belloni was an attorney before joining THR in 2006. Now he leads one of the most important publications in the entertainment industry—something the Times says he did not expect.
The last year or so has ushered in the departure of many prominent top editors. Some were terminated, some promoted to larger corporate roles and others moved onto new ventures. David Granger, Joanna Coles, Margaret Russell, Scott Dadich and now Janice Min are just a handful of examples (each of whom left under different circumstances). What's fascinating about this trend is how editors of this caliber were once almost as big as the brands themselves, but now in a new era of publishing—one that is soon to be dominated by video — the brands may rely less on personalities to drive readership and engagement.