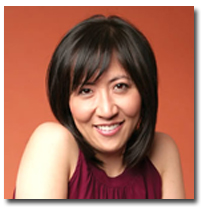 Amidst reports that new owner e5 Global Media is looking to transition The Hollywood Reporter from a weekday trade paper into a glossy weekly, the company announced Wednesday that it has named former Us Weekly editor Janice Min as editorial director.
Min [pictured] left Us Weekly last year after her contract with owner Jan Wenner ended. During her time there as editor-in-chief—a position she held since 2003—the magazine more than doubled its circulation and won several awards. Min "dramatically transformed the landscape of entertainment journalism," said e5 Global Media CEO Richard Beckman, "and she is perfectly suited to lead The Hollywood Reporter's business-to-influencer coverage of the global entertainment industry."
When asked by Hollywood news site The Wrap if Min's hiring, along with the appointment of former OK! publisher Lori Burgess as publisher, signals a shift for THR to more consumer celebrity coverage, Beckman said it is his intention to "make this the leading vehicle covering the entertainment industry. Yes, celebrity is part of that, but it's not the fundamental charter here."
Reporting to Min will be THR editor Elizabeth Guider.