Janet Libert

editor and publisher | Executive Travel SkyGuide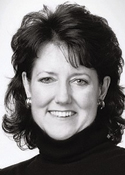 While American Express Publishing Corp. has endured significant lay-offs recently, Executive Travel Skyguide editor and publisher Janet Libert says that the economic downturn is providing unexpected opportunities for publishers who can deliver measurable results.
Libert and her staff have worked to provide these measurables by doing research—some through focus groups—to measure actual buying behavior by readers with the company's advertisers. "We also use our community site in conjunction with e-mail to get immediate feedback from our readers," she says, noting that this feedback has always been made available to the magazines' advertisers.
"The difference now [in the recession] is that more advertisers are taking advantage of what we offer. Our clients know that when we partner, we can deliver a targeted audience of C-level executives who travel frequently" with partnerships that go "way beyond paging," she says.
Libert says that her magazines "are not discounting. Our niche audience already provides a low cost reach to a powerful group of proven buyers. And, we are offering more multi-channel reach to our customers in unique ways—through our mobile products and of course our community site."
Executive Travel SkyGuide and Executive Travel offer a diverse media platform. "For quite some time we've offered integrated platforms with targeted reach to both advertisers and customers," Libert says. In addition to its print magazines, flight directory and online presence, the company has embraced mobile through the application sg2go.com, which provides its audience with global flight schedules, weather and flight status.
Executive Travel tries to stay close to its audience through wikis, e-mail and ongoing, good old-fashioned face-to-face "spot checks." Libert says that the company also does "mini-pod client brainstorming throughout the day. We look at the ROI for every program we offer. We are transparent with our pricing and the results we expect."
Where They Will Grow: In their technology media, including wiki, e-mail, and face-to-face advertiser contact, while continuing ongoing spot checks.
Where They Will Save: By not discounting advertising, specifically appealing to advertisers through multi-channeled, low cost reach to C-level travelers.
 
Quote: "Be in even closer contact with readers and customers…This is a time when priorities are shifting–everything is in flux–and you must know and understand what's going on with them."
MAIN PAGE
Todd Matherne CEO | Renaissance Publishing
Toyin Awesu publisher and editor-in-chief | AvenueReport.com
Cameron Brown president | King Fish Media
Deborah Esayian co-president | Emmis Interactive
Efrem "Skip" Zimbalist CEO | Active Interest Media
Justin Smith president | The Atlantic
Steven Kotok general manager | The Week
Len Burnett co-founder, co-CEO | Uptown
Risa Crandall VP | Scholastic Parents Media
Mike Domke founder and president | Milo Media
Jim Prevor CEO | Phoenix Media Network
Kent Brownridge general manager | OK!
Samir Arora CEO | Glam Media
John Sateja EVP | Consumer's Union
Jim Vick staff director/publisher | IEEE Spectrum
Pete May president | Greener World Media
Barb Newton president | Sunset Publishing
Paul Mackler | CEO | HMP Communications Holdings
Harry Sachinis | president | McGraw-Hill Business Information
Meet the Author
---